Respon Pertumbuhan Bibit Kelapa Sawit (Elaeis Guineensis Jacq) Akibat Pemberian Zat Pengatur Tumbuh Growtone Di Pre Nursery
Keywords:
Palm oil, Growtone, ZPT
Abstract
This study aims to determine the effect and obtain the best dose of ZPT Growtone on the growth of oil palm seedlings (Elaesis guineensis Jacq) in pre-nursery. This research was carried out experimentally using a completely randomized design (CRD) with 5 treatments and 4 replications namely G0 (without treatment), G1 (ZPT Growtone 2 gr/l), G2 (ZPT Growtone 4 gr/l), G3 (ZPT Growtone 6 gr/l), G4 (ZPT Growtone 6 gr/l). The number of experimental units was 20 plots consisting of 16 plants and 4 plants as samples, the parameters observed were plant height, number of leaves, stem diameter and leaf area. The results of this study were that the administration of ZPT Growtone had a very significant effect on the growth of oil palm seedlings on the parameters of plant height, number of leaves, stem diameter and leaf area. The best growth of oil palm seedlings was found in the G3 treatment with a concentration of 6 g/l.
References
Abdullah, Mualana Wulandari, Nirwana. "Pengaruh Ekstrak Tanaman Sebagai Sumber ZPT Alami Terhadap Pertumbuhan Setek Tanaman Lada (Piper nigrum L.)." AGROTEK: Jurnal Ilmiah Ilmu Pertanian 3.1 (2019): 1-14.
Aisoi, Elisa. "Pengaruh Pemberian Zat Pengatur Tumbuh (Growtone) terhadap Pertumbuhan Sowang (Xanthostemon novaeguineense Valet.)." Bioscientist: Jurnal Ilmiah Biologi 9.1 (2021): 131-141.
Ariyanti, G. Natali dan C, Suherman, 2017. "Respons pertumbuhan bibit Kelapa sawit (Elaeis guineensis Jacq.) terhadap pemberian pupuk organik asal pelepah kelapa sawit dan pupuk majemuk NPK".Jurnal Agrikultura. 28 (2) : 64-67.
Artanti, F. Y. 2007. Pengaruh Macam Pupuk Organik Cair dan Konsentrasi IAA Terhadap Pertumbuhan Stek Tanaman Stevia (Stevia rabudian abertono M). Skripsi. S1. FP. UNS. Surakarta
Asra, G. Simanungkalit, T. Rahmawati, N. 2015. "Respons PemberianKompos
TandanKosong Kelapa Sawit dan Zeolit Terhadap Pertumbuhan Bibit
Kelapa Sawit di PreNursery".
Jurnal Online Agtoteknologi. Fakultas Pertanian Universitas Sumatera
Utara. Medan
Basuki., S.I., Saputra, Idwar. 2015. "Pemberian Endapan Effluent Land
Application Pabrik Kelapa Sawit Pada Media PMK Di Pembibitan Utama Kelapa Sawit (Elaeis Guineensis Jacq.)". Jurnal Jom Faperta.2 (1) : 1-11.
Darmosarkoro ,Kukuh Murtilakso, Edy .S , Hasril , Yayat .H. "Upaya Peningkatan Produksi Kelapa Sawit melalui Penerapan Teknik Konservasi Tanah dan Air". AGRIVITA VOLUME 33 No. 1 FEBRUARY-2011 ISSN : 0126-053
Djamhari, S. 2010. Memeca Dormansi Rimpang Temulawak (Curcuma exanthor riza R) Menggunakan Larutan Atonik dan Stimulasi Perakaran Dengan Aplikasi Auksin. Jurnal Sains dan Teknologi Indonesia.
Ebet , Jonatan , T. Sabrina. "Pengaruh Pemberian Pupuk Hayati Cair dan Pupuk
NPK Terhadap Pertumbuhan Bibit Kelapa Sawit di Pre Nursery"
Jurnal Online Agroekoteknologi . ISSN No. 2337- 6597 Vol.3, No.3 :
- 1225, Juni 2015
Faizin, Rusdi. "Pengaruh Jenis Stek dan Konsentrasi Zat Pengatur Tumbuh Growtone Terhadap Pertumbuhan Tanaman Nilam (Pogestemon cablin Benth)." Jurnal Agrotek Lestari 2.1 (2018).
Leopold, A.C dan P.E. Kriedeman, 1975. Plan Grow and Developmen, Sec.Ed. Mc Graw Hill Book Campany, New York.
Mangoensoekarjo dan Semangun, 2008. Manajemen Agrobisnis Kelapa Sawit.
Mangoensoekarjo, S. 2003. Manajemen Agrobisnis Kelapa Sawit. Yogyakarta:
Universitas Gajah Mada Press.
Purdianingsih E, 2014. Kajian Pengaruh Pemberian Kelapa Muda dan Urin Sapi Terhadap Pertumbuhan Stek Nilam. (PBT Ahli Muda) Balai Besar Perbenihan dan Proteksi Tanaman Perkebunan.
Rahayu, S.D,Y.B.S. Heddy, Sunaryo. 2002. Pengaruh Rootn F dan Triakontrol Pada Pertumbuhan Bibit Kokosan (Lansium domesticum var.domesticum.) Agrifita Jurnal Pertanian Vol. 24 (1).
Sallisbury, F. B dan C. W Ros, 1995. Fisiologi Pertumbuhan I dan II Institut Teknologi Bandung.
Wattimena, G.A, Livy W.G, Nurhayati A.M, Endang S, dan E, 1991. Bioteknologi Tanaman. Pusat Antar Universitas Bioteknologi. Institut Pertanian Bogor.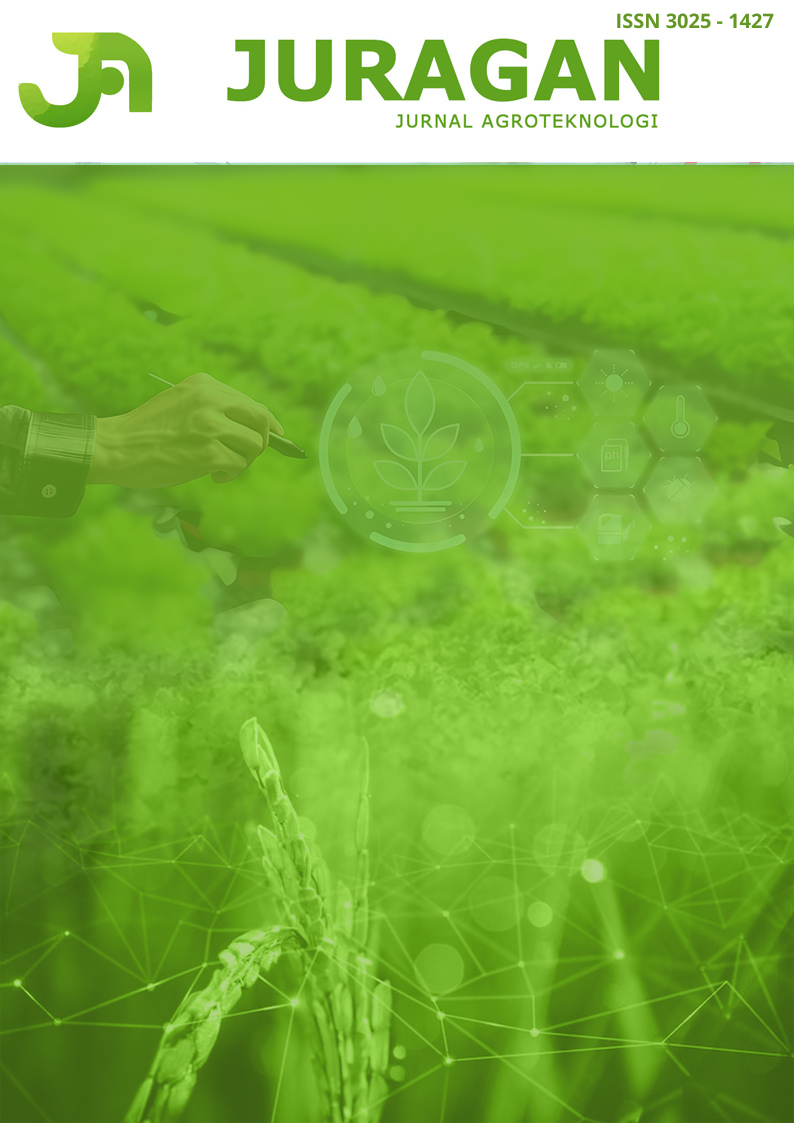 Downloads