Physicochemical Characterization and FTIR Analysis of Galactomannan from Sugar Pulm Fruit (Arenga pinnata Merr.)
Keywords:
characteristics, extraction, galactomannan, sugar palm fruit
Abstract
Commercial galactomannans such as guar gum, tara gum and locust bean gum are used as thickeners and emulsion stabilizers in the food industry. The increasing demand of the food industry for galactomannan has become the focus of research to developed from other plant sources such as sugar pulm fruit. Galactomannan was successfully extracted from kolang-kaling based on the structural characteristics of galactomannan which confirmed the presence of α and β conformers at wave numbers 810 and 871 cm-1. The physicochemical characterization in this study include yield, specific gravity, pH, soluble protein content, moisture content, water absorption and oil absorption. Based on the results of this study, the yield of galactomannan sugar pulm fruit was 2.33% with a specific gravity of 1.00 g/ml. Galactomannan of sugar plum fruit has pH, soluble protein content, water content, water absorption and oil absorption significantly different from tara gum. The water absorption and oil absorption capacity of galactomannan is higher than tara gum, so it can be used as a thickener and emulsion stabilizer to replace commercial galactomannan.
References
[AOAC] Association of Official Analytical Chemists. 2012. Official Method of Analysis of the Association of Official Analytical of Chemist, 19th Edition Volume II. Gaithersburg (US): The Association of Official Analytical Chemist, Inc.
Albuquerqu, BSP, Luana, CBB, Maria, TS, Maria GC. 2016. Biotechnological Applications of Galactomannan Matrices: Emphasis on Immobilization of Biomolecules. Advances in Research. Vol. 6, no, pp.1-17.
Albuquerque, BSP, Miguel, AC, Antonio, AV, Jose, AT, Maria, G. 2017. Immobilization of Bioactive Compounds in Cassia grandis Galactomannan-based Films: Influence on Physicochemical Properties. International Journal of Biological Macromolecules. Vol. 96, no.2017, pp. 727-735.
Bourbon, AL, Pinheiro, AC, Ribeiro, C, Miranda C, Maia JM, Vincente AA. 2009. Characerization of Galactomannans Extracted from Seed of Gleditsia triacanthos and Sophora japonica Through Shear and Extensional Rheology Comparison with Guar Gum and Locust Bean Gum. Journal of Food Hydrocolloids. (24): 184-192.
Coorey, R, Audrey, T, Vijay, J. 2014. Gelling of Properties of Chia Seed and Flour. Journal of Food Science. Vol. 79, no.5, pp. E859-E866.
Dea, ICM & Morrison, A. 1975. Chemistry and Interactions of Seed Galactomannans. Advances in Carbohydrate Chemistry and Biochemistry. Vol.31, pp. 241-242.
Ditjen Perkebunan. 2015. Luas dan produksi Tanaman Perkebunan [diunduh 2021 Juni 1].
Effendi, DS. 2009. Aren: Sumber Energi Alternatif. Warta Penelitian dan Pengembangan Pertanian. Vol.31, no.2, pp.1-3.
FAO. 1984. Potential Edible Nut. In FAO Corporate Document Respository Produced by Forestry Department [diunduh 2021 Desember 7].
Galla, NR & Dubasi, GR. 2010. Chemical and Functional Characterization of Gum Karaya (Sterculia urens L.) seed Meal. Journal of Food Hydrocolloid. Vol. 24, pp. 478-485.
Garti, NZ, Aserin, Sternheim. 1997. Fenugreek Galactomannan as Food Emulsifier. Academic Press Limited. Vol.3, no.2, pp.302-311.
Huang, X, Kakuda Y, Cui W. 2001. Hydrocolloids in Emulsions Particle Size Distribution and Interfacial Activity. Food Hydrocolloid. Vol.15, pp.533-542.
Hussin, AS, Che, NS, Aliaa, A, Hajar, RB. 2017. Aqueous Extraction, Purification and Characterization of Galactomannans from Aren Sugar Palm (Arenga pinnta) Fruit. International Journal Advanced Science Engineering Information Technology. Vol.7, pp.1148-1154.
Ihsan, F, Sugiyono, S, Suyatma, NE. 2022. Karakteristik Galaktomanan dari Berbagai Sumber dan Pemanfataannya sebagai Bahan Tambahan Pangan. Vol.41, no.1, pp.21-31.
Imerson, A. 2010. Food Stabiliziers, Thiceners and Gelling Agent. Blackwell Publishing. USA. 352 halaman.
Karaman, S, Kesler, Y, Goksel, M, Dogan, M, Kayacier, A. 2014. Rheological and Some Physicochemical Properties of Selected Hydrocolloids and Their Interaction with Guar Gum: Characterization Using Principal Component Analysis and Viscous Synergism Index. International Journal of Food Properties. Vol.17, no.8, pp.1655-1667.
Karine, AN, Carlos, EA, Icaro, GPV, Raimundo, RA, Renato, DM, Tamara, G, Maria, EN, Nagila, MP. 2018. Adennthera pavonia Galactomannan for Controlled Delivery of Rutin. Quim. Nova. Vol.41, no.6, pp.607-612.
Lavudi, HN, Seshagirirao, K, Franisco, MG. 2017. Extraction, Purification and Characterization of Water Soluble Galactomannans from Mimosa pudica Seed. The Euro Biotech Journal. Vol.1, no.3, pp.303-309.
Lowry, OH, Rosebrough, NJ, Farr, AL dan Randall, RJ. 1951. Protein Measurement with Follin Phenol Reagent. J. Biol Chem. Vol.193, pp.265-275.
Skoog DA, Wes DM. 1963. Fundamentals of analytical chemistry. New York.
Tarigan, JB. 2012. Karakterisasi Edible Film yang Bersifat Antioksidan dan Antimikroba dari Galaktomanan Biji Aren (Arenga pinnata) yang Diinkoperasi dengan Minyak Atsiri Daun Kemangi. DISERTASI. Pascasarjana Universitas Sumatera Utara, Medan.
Torio, MA, Joydee, S, Florinia, ME. 2006. Physicochemical Characterization of Galactomanan from Sugar Palm fruit (Arenga sccharufera Labill) Endosperm at Different Stanges of Nut Maturity. Philippine Journal of Science. Vol. 135, no.1, pp. 19-30.
Yanti, Madriena, Soegianto, A. 2017. Cosmeceutical Effect of Galactomannan Fraction from Arenga pinnta Fruit in Vitro. Journal of Pharmacognosy Research. Vol.9, no.1, pp.39-45.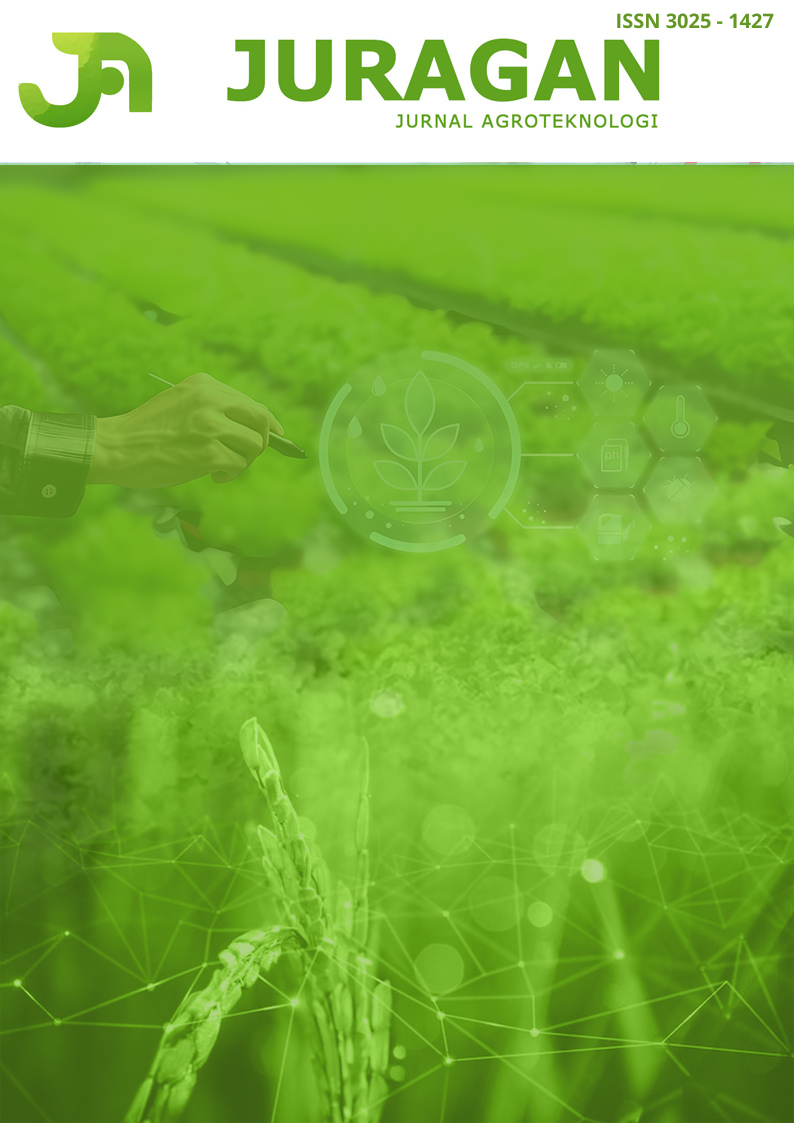 Downloads