Aplikasi E-Library Smk Negeri 2 Teknologi Dan Rekayasa Nabire Berbasis Web
Keywords:
Aplikasi, E-Library, SMK, Web
Abstract
SMK Negeri 2 Teknologi dan Rekayasa Nabire merupakan salah satu satuan pendidikan yang terletak  di Jalan Poros Wadio-Nabire, Kelurahan Bumi Wonorejo, Kec. Nabire, Kab. Nabire, Prov. Papua Tengah. Dalam kegiatannya, SMK N 2 Teknologi dan Rekayasa Nabire belum menerapkan sistem yang terkomputerisasi pada perpustakaan sekolah. Perpustakaan  pada  Sekolah saat  ini  masih  menggunakan  cara  manual  dalam  melakukan  pengolahan  pada perpustakaan seperti Data pengguna ,pencarian dan pengecekan  menjadi tidak efektif karena membutuhkan waktu  yang  cukup  lama, dan belum  tersusun  dengan  baik.  Tujuan  dari  penelitian  ini  adalah  merancang  sebuah  Analisis dan Perancangan Aplikasi Perpustakaan  berbasis website. Pada penelitian ini di lakukan metode observasi, wawancara, dan studi kasus langsung di dalam lingkungan SMK N 2 Teknologi dan Rekayasa NABIRE. Untuk mengatasi masalah yang di hadapi, maka peneliti akan memberikan alternatif pemecahan masalah dengan mengembangkan sistem pada perancangan yang berjalan saat ini dengan terkomputerisasi. Perencanaan dalam penelitian ini menggunakan Bahasa pemrograman PHP, (Hypertext Prepocessor) dan Data Base MySQL di harapkan dapat mengatasi permasalahan yang di hadapi sehingga mempermudah Admin yang ingin melakukan Pendataan Pengunjung dan pembuatan laporan yang lebih tepat dan akurat.
Downloads
Download data is not yet available.
References
L. Trisnawati and D. Setiawan, "Sistem Monitoring Kegiatan Kemahasiswaan Menggunakan Metode Agile Development," JOISIE J. Inf. Syst. Informatics Eng., vol. 6, no. 1, pp. 49–57, 2022.
D. Setiawan, R. N. Putri, and I. P. Sari, "Implementasi Model Design Thinking pada Prototype Aplikasi E-Growth," J. Teknol. Inf. dan Ilmu Komput., vol. 9, no. 6, p. 1247, 2022, doi: 10.25126/jtiik.2022965765.
A. Aprizald, M. A. Hasan, and D. Setiawan, "Aplikasi Keamanan Data Berbasis Web Menggunakan Algoritma AES 128 Untuk Enkripsi Dan Dekripsi Data," JEKIN - J. Tek. Inform., vol. 2, no. 2, pp. 85–95, 2023, doi: 10.58794/jekin.v2i2.225.
D. Indria Yusman, Tio; Sari, Ira Puspita; Setiawan, "Aplikasi E-Business Travel Berbasis Android," vol. 1, no. 1, 2021.
M. H. Abdurrohman, D. Setiawan, and L. Trisnawati, "Model Rancangan Aplikasi Promosi Usaha Rempah Menggunakan Design Thinking," vol. 5, no. 1, pp. 29–36, 2021.
D. Setiawan, "Implementasi Bahasa Pemrograman Java Untuk Pengontrolan Aset Kantor Pada Dinas Kebudayaan Dan Pariwisata Provinsi Sumatera Barat," Edik Inform., vol. 1, pp. 113–122, 2017, [Online]. Available: http://ejournal.stkip-pgri-sumbar.ac.id/index.php/eDikInformatika/article/view/1452
U. T. D. Pmi, "Perancangan Aplikasi Informasi Donor Darah Menggunakan Metode Waterfall," vol. 2, no. 2, 2022.
M. Yuliana, "Aplikasi Diagnosa Infeksi Jamur Pada Kuku Kaki Manusia Dengan Menggunakan Metode Agile Development," J. SANTI - Sist. Inf. dan Tek. Inf., vol. 2, no. 2, pp. 79–86, 2023, doi: 10.58794/santi.v2i2.186.
P. R. Khairunnisa, R. N. Ilmi, S. Dyangrosa, and P. Balqis, "Perancangan Aplikasi Kantin Elektronik ( E - Canteen ) Klik- EAT ! UNS Berbasis Web," vol. 3, no. 1, 2023.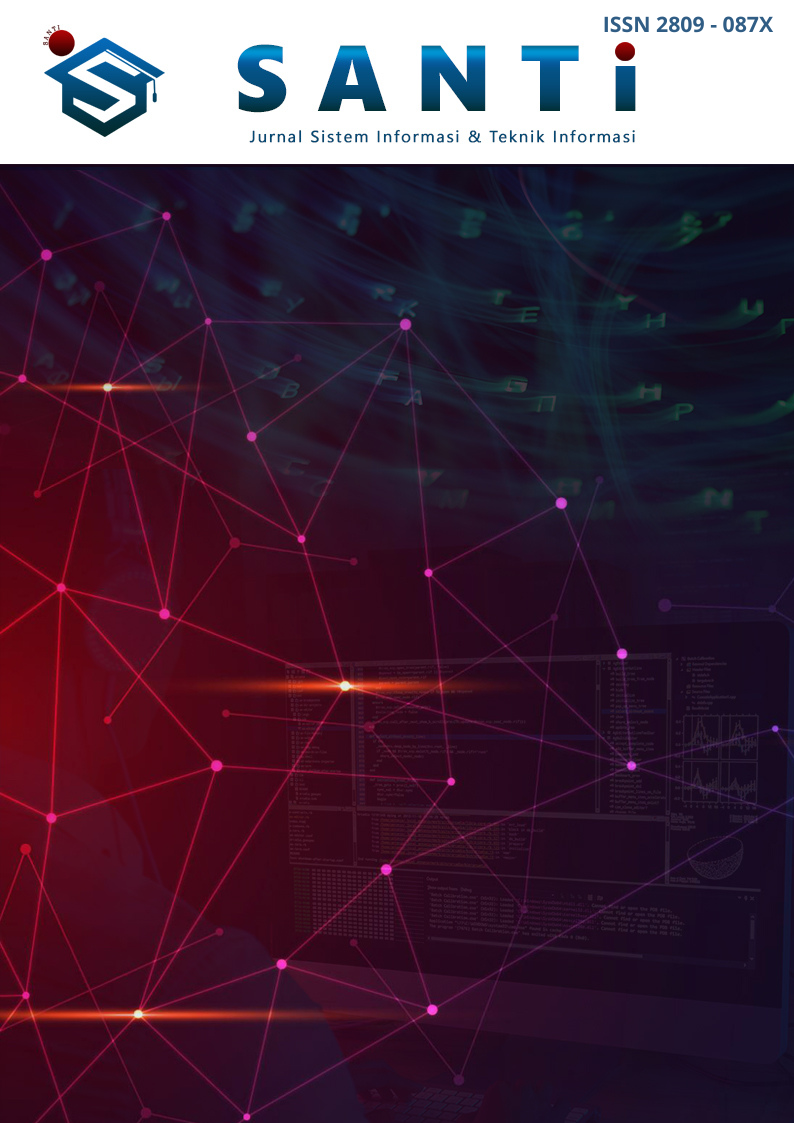 Downloads
License
Copyright (c) 2023 Jurnal SANTI - Sistem Informasi dan Teknik Informasi
This work is licensed under a Creative Commons Attribution-ShareAlike 4.0 International License.
SANTI - Journal of Information Systems and Information Technology provides open access to anyone, ensuring that the information and findings in the article are useful to everyone. This journal article's entire contents can be accessed and downloaded for free. In accordance with the Creative Commons Attribution-ShareAlike 4.0 International License. 

SANTI - Journal of Information Systems and Information Technology is licensed under a Creative Commons Attribution-ShareAlike 4.0