Perancangan Aplikasi Berbasis Web Sistem Berbagi Informasi "UNS Sharing"
Keywords:
Informasi, Metode waterfall, UNS Sharing, Web
Abstract
Ketersediaan informasi di universitas menjadi suatu hal yang sangat penting karena memiliki andil dalam menentukan kegiatan, baik itu untuk kepentingan individu atau kelompok. Oleh karena itu, perancangan aplikasi berbasis web sistem berbagi informasi "UNS Sharing" bertujuan untuk mempermudah mahasiswa UNS dalam memperoleh informasi, dimana sistem ini menggunakan metode waterfall dalam proses pengembangannya. Aplikasi berbasis web ini memiliki 2 pengguna utama, yaitu admin dan mahasiswa, dimana admin bertugas sebagai pemberi informasi yang disediakan, sedangkan mahasiswa sebagai pihak yang menerima informasi tersebut. Hasil rancangan aplikasi berbasis web ini mengelompokkan informasi berdasarkan prodi, sehingga informasi yang diterima mahasiswa akan lebih tertata dan juga bisa melihat informasi dari prodi lain apabila diperlukan.
Downloads
Download data is not yet available.
References
A. Fitria, "Perancangan Sistem Informasi Penjadwalan Kuliah Berbasis Web Pada Fakultas Komputer Dan Multimedia Di UNIKI," vol. 3, no. 2, pp. 9–15.
H. Mukhtar, "SISTEM INFORMASI DETEKSI KEHADIRAN DAN MEDIA PENYAMPAIAN PENGUMUMAN DOSEN DENGAN MENGGUNAKAN TEKNIK PENGENALAN QR CODE," Rabit : Jurnal Teknologi dan Sistem Informasi Univrab, vol. 3, no. 2, pp. 89–99, Jul. 2018, doi: 10.36341/rabit.v3i2.445.
T. Rahman1 and A. B. Pramastya2, "Perancangan Sistem Informasi Akademik Berbasis Website Pada SMK Bina Medika Jakarta," Universitas Bina Sarana Informatika JL. Kamal Raya, vol. 2, no. 3, 2019, [Online]. Available: http://www.jurnal.umb.ac.id/index.php/JSAI
R. Maku, "R. Maku, 'Perancangan Sistem Penjadwalan Kuliah dan Ujian Skripsi Program Studi Informasi Berbasis Web', Jurnal Ilmu Komputer, vol.1, no. 1"
J. Samuel and D. Yuniawan, "PERANCANGAN SISTEM INFORMASI PENJADWALAN LABORATORIUM KOMPUTASI INDUSTRI UNIVERSITAS MERDEKA MALANG BERBASIS WEB."
N. Alamsyah and I. Kalimantan Muhammad Arsyad Al Banjari Banjarmasin, "PERANCANGAN SISTEM INFORMASI PENJADWALAN PRAKTIKUM BERBASIS WEB PADA FAKULTAS TEKNOLOGI INFORMASI," Oktober-Desember, 2019.
E. Nurelasari, "Perancangan Sistem Informasi Akademik Pada Sekolah Menengah Pertama Berbasis Web," Komputika : Jurnal Sistem Komputer, vol. 9, no. 1, pp. 67–73, Apr. 2020, doi: 10.34010/komputika.v9i1.2243.
M. I. Suri and A. S. Puspaningrum, "SISTEM INFORMASI MANAJEMEN BERITA BERBASIS WEB," 2020. [Online]. Available: http://jim.teknokrat.ac.id/index.php/sisteminformasi
M. C. Johan, E. D. Handoyo, and S. Santoso, "Prototipe Aplikasi Bimbingan Tugas Akhir Mahasiswa Berbasis Web," Jurnal Teknik Informatika dan Sistem Informasi, vol. 9, no. 1, Apr. 2023, doi: 10.28932/jutisi.v9i1.5726.
M. Usnaini, V. Yasin, and A. Z. Sianipar, "Perancangan sistem informasi inventarisasi aset berbasis web menggunakan metode waterfall," Jurnal Manajamen Informatika Jayakarta, vol. 1, no. 1, p. 36, Feb. 2021, doi: 10.52362/jmijayakarta.v1i1.415.
M. Manuhutu and J. Wattimena, "Perancangan Sistem Informasi Konsultasi Akademik Berbasis Website," JURNAL SISTEM INFORMASI BISNIS, vol. 9, no. 2, p. 149, Nov. 2019, doi: 10.21456/vol9iss2pp149-156.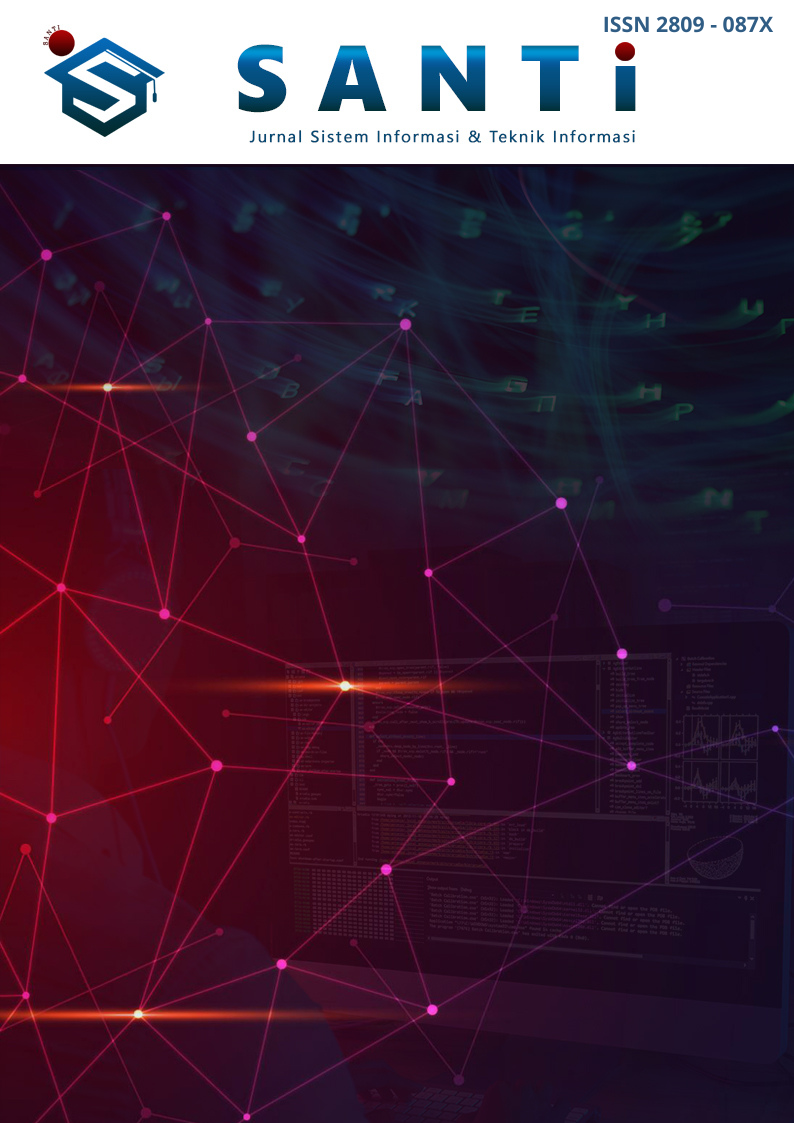 Downloads
License
Copyright (c) 2023 Jurnal SANTI - Sistem Informasi dan Teknik Informasi
This work is licensed under a Creative Commons Attribution-ShareAlike 4.0 International License.
SANTI - Journal of Information Systems and Information Technology provides open access to anyone, ensuring that the information and findings in the article are useful to everyone. This journal article's entire contents can be accessed and downloaded for free. In accordance with the Creative Commons Attribution-ShareAlike 4.0 International License. 

SANTI - Journal of Information Systems and Information Technology is licensed under a Creative Commons Attribution-ShareAlike 4.0