Sistem Publikasi Event 'Semar Event Hub' Berbasis Website
Keywords:
Teknologi, Website, Sistem Publikasi
Abstract
Perkembangan teknologi yang pesat di era globalisasi mendorong penyebaran informasi event di lingkungan universitas untuk menggunakan teknologi agar penyebaran menjadi cepat, akurat, dan tepat. Salah satu bentuk penyebaran informasi event yaitu dengan melakukan publikasi event yang bertujuan agar target jumlah  peserta dapat tercapai. Belum adanya media berupa website yang menampung informasi berbagai event yang diselenggarakan oleh civitas akademika Universitas Sebelas Maret mendukung penelitian ini untuk menciptakan sistem publikasi event berbasis website. Penelitian ini dibangun dengan metode waterfall dimana setiap tahapan membangun sistem dilakukan secara berurutan. Sistem publikasi event yang diciptakan memuat 9 kebutuhan fungsional dengan 3 aktor yang berperan pada sistem. Setiap halaman pada website dibangun dengan menerapkan bahasa pemrograman PHP, HTML, dan dibantu oleh framework Bootstrap. Kemudian, digunakan PHPMyAdmin sebagai penyedia basis data yang digunakan pada sistem. Pengujian terhadap fungsional sistem dilakukan dengan metode black-box. Sistem berbasis website ini diharapkan mampu menjadi media bagi mahasiswa Universitas Sebelas Maret untuk melakukan publikasi event dan mencari informasi. 
Downloads
Download data is not yet available.
References
K. Aryansyah, R. Sidik. "Perancangan Sistem Informasi Penyelenggaraan Event Lokakarya dan Seminar (Studi Kasus: UNIKOM Bandung)." JATI. 2020; vol. 10(2): 116–128.
M. A. S. Amin, P. Priansah."Marketing Communication Strategy To Improve Tourism Potential". Artikel. Budapest International Research and Critics Institute Journal (BIRCI-Journal). 2019; vol 2(4): 165.
Jimi, Asmara. "Rancang Bangun Sistem Informasi Desa Berbasis Website (Studi Kasus Desa Netpala)". Jurnal Pendidikan Teknologi Informasi (JUKANTI). 2019; vol. 2(1):1-7.
Elisa, Erlin, Azwanti, Nurul. "Rekayasa Perangkat Lunak Untuk Jasa Pindah Berbasis Web." Rang Teknik Journal. 2019; vol 2(2).270-278
Murdiani, Deni. Hermawan, Heri. "Perbandingan Metode Waterfall dan RAD (Rapid Application Development) pada Pengembangan Sistem Informasi." Jurnal Teknologi Informasi. 2022; vol. 6(1): 14-23.
Maria, Sinta, Sari, Cindy Atika. "Rancangan Bangun Sistem Informasi Estimasi Panen dan Harga TBS Sawit Pada KUD Sinar Kerakap Berbasis Web." Jurnal SANTI (Sistem Informasi dan Teknologi Informasi). 2021; vol 1(1).
AlHogail, Areej, Mirza, Abdulrahman. A framework of information security culture change. Journal of Theoretical and Applied Information Technology. 2014; vol 64(2): 540–549.
M. AlSabah, G. Oligeri, R. Riley. Your culture is in your password: An analysis of a demographically-diverse password dataset. Computers & Security. 2018; vol 77: 427-.441
Kurniawan, T. Bayu, Syarifuddin. "Perancangan Sistem Aplikasi Pemesanan Makanan Dan Minuman Pada Cafetaria No Caffe Di Tanjung Balai Karimun Menggunakan Bahasa Pemograman Php Dan Mysql". JURNAL TIKAR. 2020; Vol 1(2): 192-206.
Sianturi, R. A., Pratama, Y., Situmorang, V., & Sinaga, A. M. "Development of Tourist Village Website to Increase Tourism in Lake Toba". The IJICS (International Journal of Informatics and Computer Science). 2022l Vol. 6(1); 64-72.
Antika, Rini. "Sistem Pakar Mendiagnosa Penyakit HIV Menggunakan Metode Forward Chaining". Jurnal SANTI (Sistem Informasi dan Teknologi Informasi). 2023;Vol 3(1):1-10.
Suherni, Pebi. "Aplikasi Sistem Informasi Transaksi Pelayanan Obat Di Apotek Menggunakan Metode Waterfall". Jurnal SANTI (Sistem Informasi dan Teknologi Informasi). 2021;Vol 1(2):23-3172.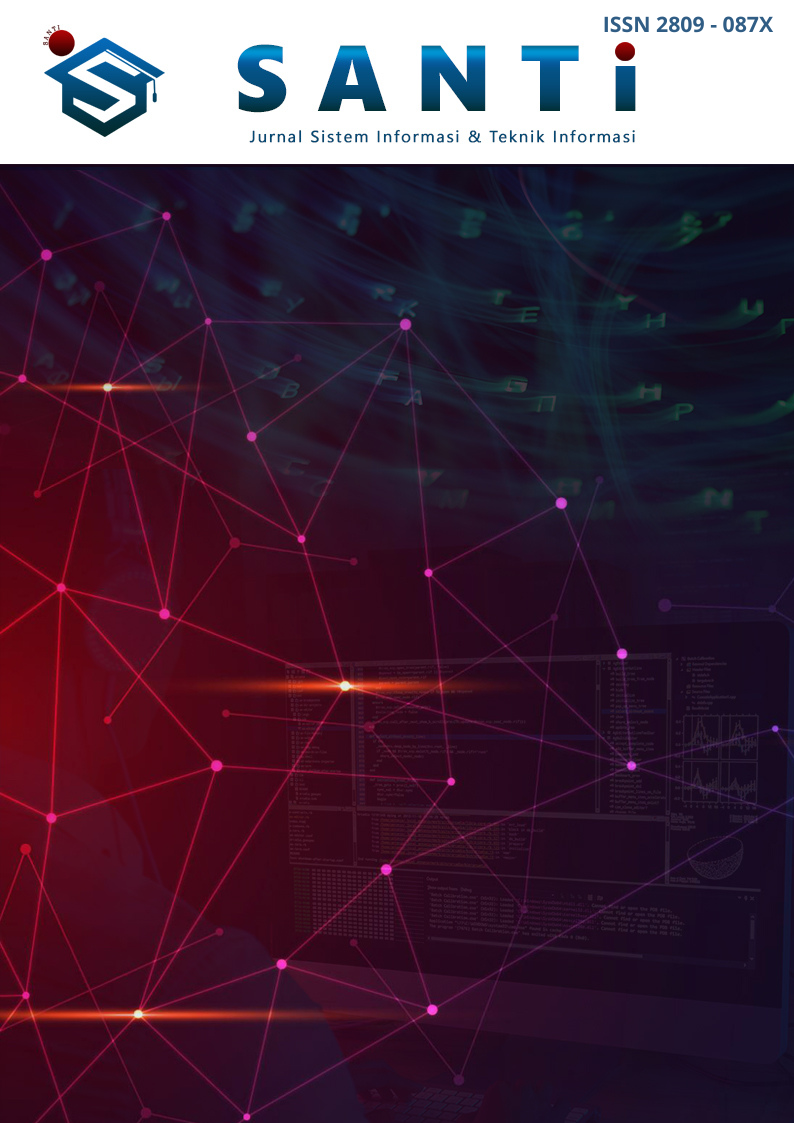 Downloads
License
Copyright (c) 2023 Jurnal SANTI - Sistem Informasi dan Teknik Informasi
This work is licensed under a Creative Commons Attribution-ShareAlike 4.0 International License.
SANTI - Journal of Information Systems and Information Technology provides open access to anyone, ensuring that the information and findings in the article are useful to everyone. This journal article's entire contents can be accessed and downloaded for free. In accordance with the Creative Commons Attribution-ShareAlike 4.0 International License. 

SANTI - Journal of Information Systems and Information Technology is licensed under a Creative Commons Attribution-ShareAlike 4.0