Aplikasi Pendeteksi Gejala Penyakit Jantung Menggunakan Metode Minkowski Distance Dengan Citra Matlab
Keywords:
jantung, Minkowski Distance , Matlab
Abstract
Penyakit jantung adalah salah satu dari penyakit yang dapat menyebabkan kematian yang tinggi bersama stroke, kanker paru-paru, kanker payudara, dan AIDS. Ada sebanyak 45% kematian di dunia disebabkan oleh penyakit jantung. Penyakit jantung dapat disebabkan karena kecanduan merokok, obesitas, usia yang semakin tua, diabetes, penyalahgunaan alkohol. Penyakit jantung ini dapat dicegah dengan memulai hidup sehat seperti tidak merokok, tidak mengkomsumsi alkohol, olahraga teratur dan mengurangi stres, atau konsultasi kedokter secara langsung. Dengan menggunakan metode minkowski distance dapat digunakan sebagai membandingkan jarak antara beberapa data vektor gejala penyakit jantung yang berbeda. Oleh karena itu metode ini dapat digunakan untuk menentukan seberapa mirip dua gejala, atau sebagai penentu jarak antara dua data yang digunakan untuk menentukan jenis dari penyakit jantung. Kelebihan dari aplikasi ini adalah untuk mendeteksi gejala-gejala awal dari penyakit jantung dan mendapatkan informasi yang dibutuhkan dengan mudah. Kekurangan dari hasil yang diberikan sistem aplikasi tidak dapat dijadikan patokan katena aplikasi ini mungkin tidak dapat mengevaluasi seluruh gejala atau tanda penyakit jantung dengan akurat.
Downloads
Download data is not yet available.
References
D. Galih Pradana, M. L. Alghifari, M. Farhan Juna, and S. Dwisiwi Palaguna, "Klasifikasi Penyakit Jantung Menggunakan Metode Artificial Neural Network," Indonesian Journal of Data and Science (IJODAS), vol. 3, no. 2, pp. 55–60, 2022.
dr Bambang Dwiputra, "Penyakit Jantung Koroner Mengenali Tanda dan Gejala Serangan Dini."
V. M. Tarawan, R. Lesmana, H. Gunawan, and J. W. Gunadi, "GAMBARAN PENGETAHUAN PENCEGAHAN PENYAKIT JANTUNG KORONER PADA WARGA DUSUN III DESA MEKARMANIK KECAMATAN CIMENYAN KABUPATEN BANDUNG," Jurnal Pengabdian kepada Masyarakat, vol. 4, no. 1, pp. 10–14.
H. Maradona, "SISTEM PAKAR DIAGNOSA PENYAKIT JANTUNG DENGAN METODE CASE BASED REASONING (CBR)," 2021.
M. Amin, L. Fredrika, and D. D. Kartika, "Pengalaman dan Gangguan Aktivitas Seksualitas Klien Penyakit Jantung Koroner," Jurnal Kesmas Asclepius, vol. 1, no. 2, pp. 186–195, Dec. 2019, doi: 10.31539/jka.v1i2.967.
dr Bambang Dwiputra, "Penyakit Jantung Koroner Mengenali Tanda dan Gejala Serangan Dini."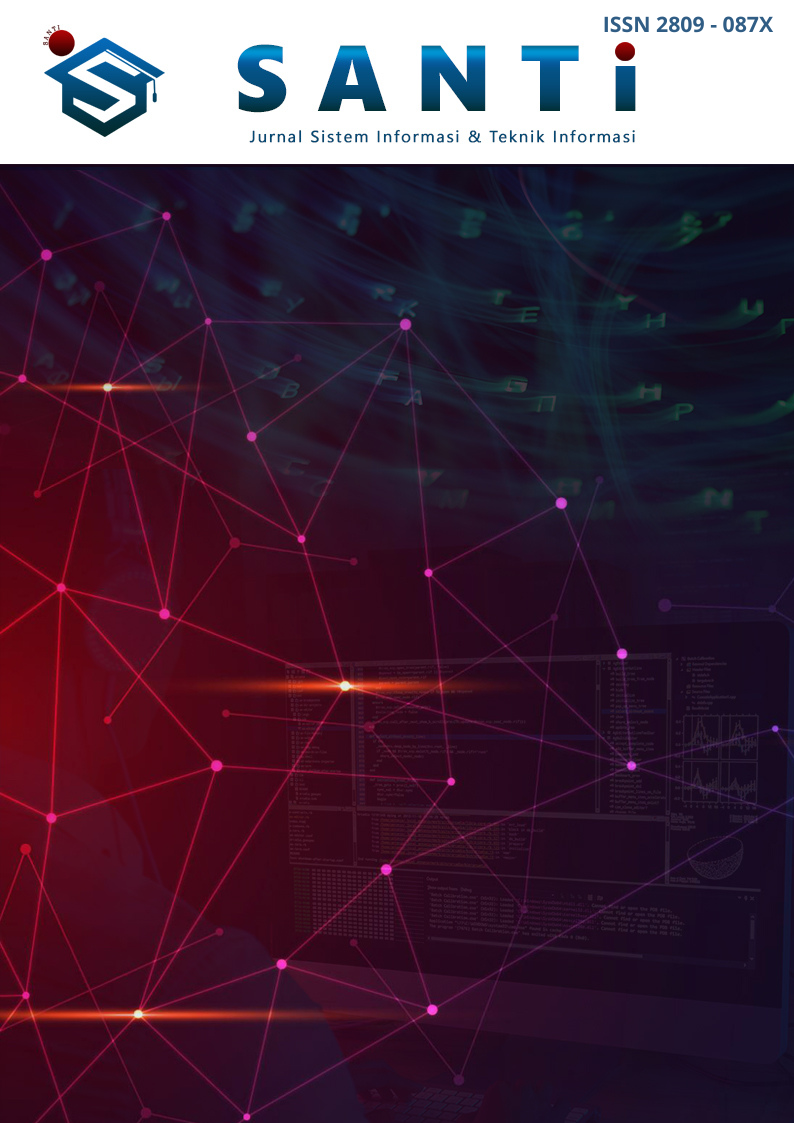 Downloads
License
Copyright (c) 2023 Jurnal SANTI - Sistem Informasi dan Teknik Informasi
This work is licensed under a Creative Commons Attribution-ShareAlike 4.0 International License.
SANTI - Journal of Information Systems and Information Technology provides open access to anyone, ensuring that the information and findings in the article are useful to everyone. This journal article's entire contents can be accessed and downloaded for free. In accordance with the Creative Commons Attribution-ShareAlike 4.0 International License. 

SANTI - Journal of Information Systems and Information Technology is licensed under a Creative Commons Attribution-ShareAlike 4.0